Many of us have watched from the comfort of our own homes, as evacuation centres filled with families, many who have lost everything. I held my three little ones so tight as I listened to tragic stories of families who have been torn apart, and I worried for my husband as he went to work in the emergency services each day or night during the awful weather.
It really has been a heart breaking start to 2011, and there is so much more to come as we as a nation recover from the astounding damage to lives and property, however, as I continued to read my favourite bloggers, and I cried as they opened their hearts and found many individual ways for us all to help out.
For example, I am so inspired by the amazing and talented participants of the flood auctions.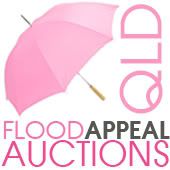 But the one blogger who has really touched me and bought the tears to my eyes several times, is the gorgeous soul Corrie,
aka
retromummy
, who truly opens her heart with the
Quilts for Queensland
event.
What a star!
We really do live in the lucky country, when you see the love and compassion that flows from stranger to stranger in times of crisis. I hope to contribute something to Retromummy's Quilts for Queensland, but as a very new quilter, this may be the best contribution I can give at this point, a dedicated blog posting! Never know who might see it! I am thankful for the Retromummy's of our world xxx